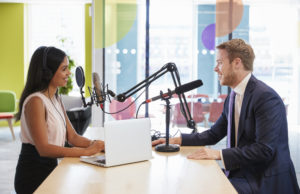 Nonprofits have developed many ways to advance their mission. From traditional methods such as fundraising events, raffles, community partnerships, and direct mail campaigns, to technologically-driven tactics including email marketing, blogging, social media, and video.
Savvy organizations have never been hesitant to adopt new tools that allow them to inform and educate the public, communicate internally, and attract, acquire and retain donors.
Today, that new tool is podcasting.
The marketing world is aflutter with talk of podcasts. While it may be new to some, the technology has been around for quite some time, though early adopters and recent breakouts have helped dramatically increase awareness and consumption in recent years.
Current statistics are compelling. Each month, nearly 100 million Americans listen to a podcast, with 62 million listening weekly or more. Podcast listeners are dedicated. The average podcast consumer now listens to 6 to 7 podcasts. These figures have all risen sharply in the past year alone, and do not appear to be slowing down.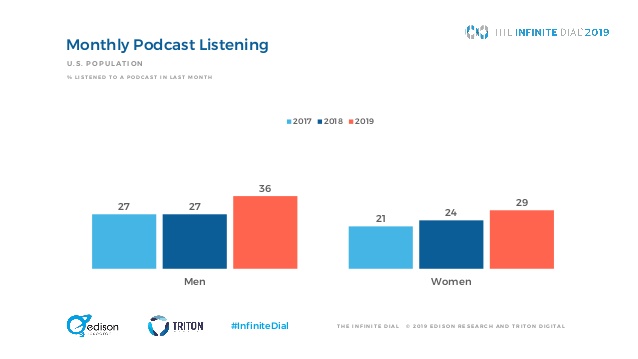 Demographically, podcast listeners represent a very favorable audience for nonprofits. Fairly evenly split among genders, podcast listeners tend to have higher levels of education, employment, and income than the general public. And when the content is good, listeners don't seem to mind being 'pitched.' Studies have shown that podcast listeners are more likely to respond favorably to a service or product they heard on a podcast than elsewhere, and a brand new study from Adobe Analytics shows that "60% of all podcast listeners said they've looked up a product or service after hearing an ad and one-in-four went on to ultimately make a purchase." While nonprofits aren't technically selling a product, these statistics demonstrate that podcast consumers are extremely engaged, curious, and willing to support products and services they discover through podcasts.
As outlets such as NPR have proven through the years, quality audio journalism and podcasting are extremely well-suited for informing and educating the public. In fact, a large majority of podcast listeners listen to podcasts specifically to "learn new things," while 60% state that they are interested in staying up-to-date with the latest topics. They are also more likely to share content on social media than the general public, showing once again that they are digitally savvy, engaged and will evangelize for what they believe in. Because of this, many nonprofits have entered the podcasting arena, from large, national organizations such as the Michael J. Fox Foundation, UNICEF, The Innocence Project and The Clinton Foundation, regional organizations such as the New York Public Library, and hyper-local examples such as "Homeless in San Diego," a show run by Interfaith Community Services, a long-running nonprofit based in Escondido, California.
With thoughtful and high-quality podcasting, nonprofits can also receive many of the benefits that make podcasting so attractive to for-profit brands and companies. Podcasting helps organizations establish expertise and exude trustworthiness. Adding audio content to a website increases an organization's search engine rankings, while every episode can also spawn multiple pieces of social media content, all helping keep an organization stay modern, active, and visible.
Experts say that the podcast revolution is still young, with year-over-year listenership expected to continue to grow exponentially. Thanks to the rise of smartphones, and growing innovations like smart speakers and in-car internet, the demand for audio is likely to continue to skyrocket. While the number of new entrants is staggering — some data show that more than 500 podcasts are launched daily! — organizations that have an existing user base, a powerful message that resonates and inspires, a respect for the power of storytelling, and that are fueled and funded by passionate people, have a unique opportunity to ride the tsunami of attention on this new medium and make a significant digital mark on their industry.
For all of these reasons and more, nonprofits should waste no time adding professional, broadcast-quality podcasting to their outreach arsenal.
—
We can help! Fill out the form below to set up a quick, free call with one of our award-winning podcast producers and learn how your organization can get started making impactful podcasts today!